DM-04-1-Black
Regular price
Sale price
$56.00 CAD
Unit price
per
Sale
Sold out
Sale:
$50.40 CAD
(10% off)
⃰ Discount calculated at checkout
Our adjustable single monitor arm is a versatile and ergonomic solution designed to enhance your workspace and elevate your viewing experience. This single monitor mount offers a range of features and benefits that make it the perfect addition to any modern office or home setup!
One of the standout features of this monitor stand is its ergonomic design, which prioritizes your comfort. With a 45-degree monitor tilt adjustment, you can effortlessly tilt the screen to your preferred viewing angle, reducing strain on your neck and minimizing the risk of developing neck pain or discomfort, even during extended use.
Not only does the monitor arm ensure anatomically correct viewing, but it also offers versatile compatibility. This single monitor stand can accommodate monitors ranging from 17" to 32", making it suitable for various screen sizes. Whether you have a smaller display for daily tasks or a larger screen for multimedia work, this monitor arm can handle it all, providing a secure and stable support system with its impressive weight capacity of 19.8 lbs.
To install the monitor arm, you can choose between the convenient clamp or grommet hole mounting, allowing you to adapt the monitor arm to your desk configuration effortlessly. That said, the grommet hole mount is an option only if compatible with the grommet hole on a tabletop.
Furthermore, this single monitor desk mount provides space optimization with its 360-degree VESA mount rotation. Easily rotate your monitor vertically, horizontally, or at any angle in between to maximize your desk space and create a customized setup that suits your specific needs.
Enhanced productivity is another key benefit of this monitor arm. Its ability to rotate, tilt, and adjust the screen to your preferred viewing position allows you to minimize distractions, improve focus, and reduce eye fatigue. As a result, you can work more efficiently and comfortably, even during long work sessions!
With a sleek black color, this monitor stand will seamlessly blend into any office or home environment, elevating the aesthetics of your setup.
Finally, to ensure the monitor arm's durability and reliability, it is backed by a 15-year warranty, giving you peace of mind as you continue to benefit from its ergonomic features for years to come!
Experience comfortable viewing angles, increased productivity, and a clutter-free desk with this essential accessory, and check more monitor stands in our collection.
Monitor Compatibility

17" - 32"

Weight Capacity

19.8 lbs

Product Weight

5.7 lbs

Clamp Desk Thickness

0.4" - 3.3"

Grommet Desk Thickness

0.4" - 1.5"

Grommet Hole Diameter

0.4" - 3.2"

Cable Management

Cable Cover, Cable Hooks

VESA Compatibility

100mm x 100mm and 75mm x 75mm

Base Joint Rotation

±90°

Elbow Joint Rotation

±90°

Neck Joint Rotation

±90°

VESA Mount Rotation

360°

Monitor Tilt Adjustment

±45°

Height Adjustment

Up to 15.25"

Clamp Mount

Included

Grommet Mount

Included

Detachable VESA

Included

Warranty

15 Years
Free shipping to the 48 United States and Canada
View full details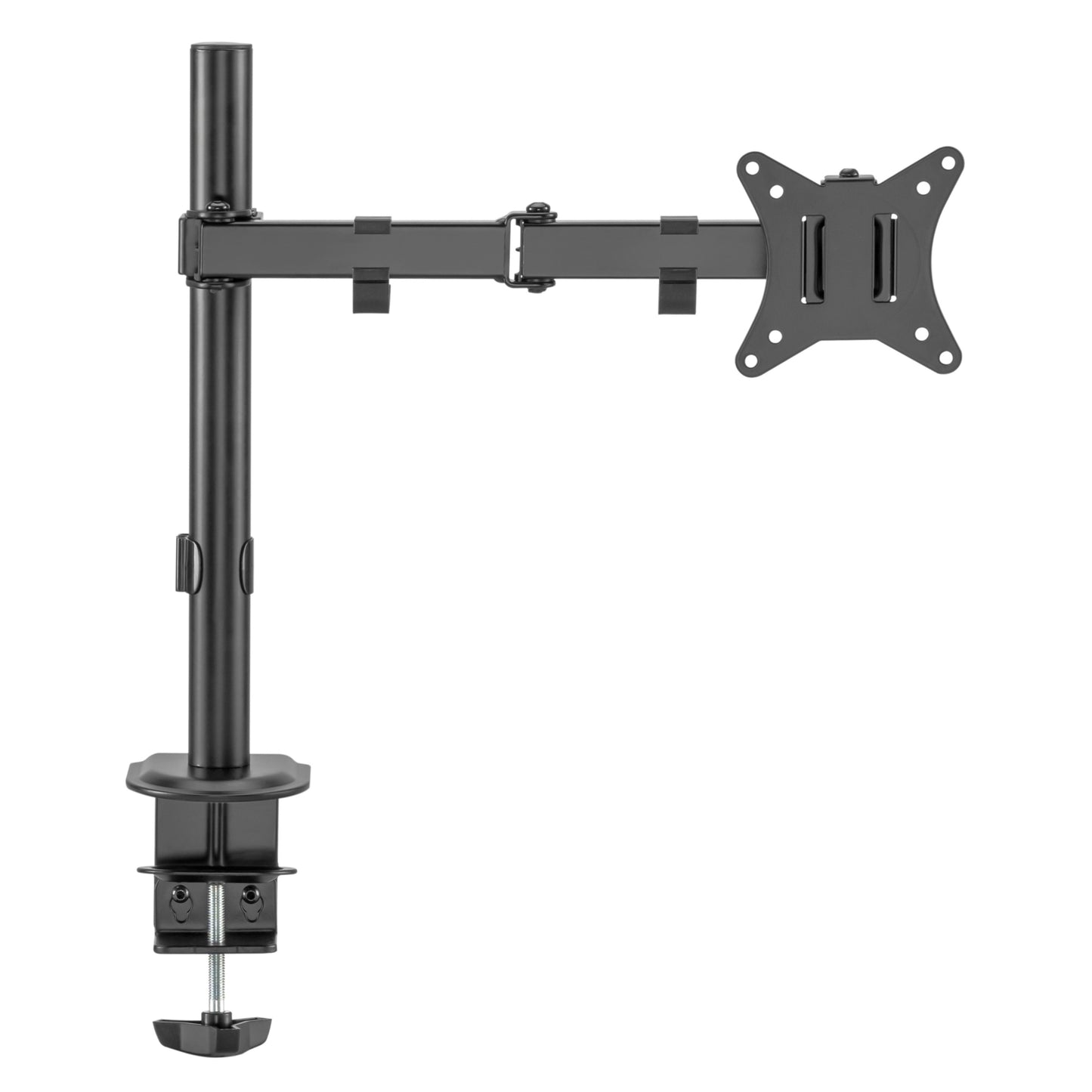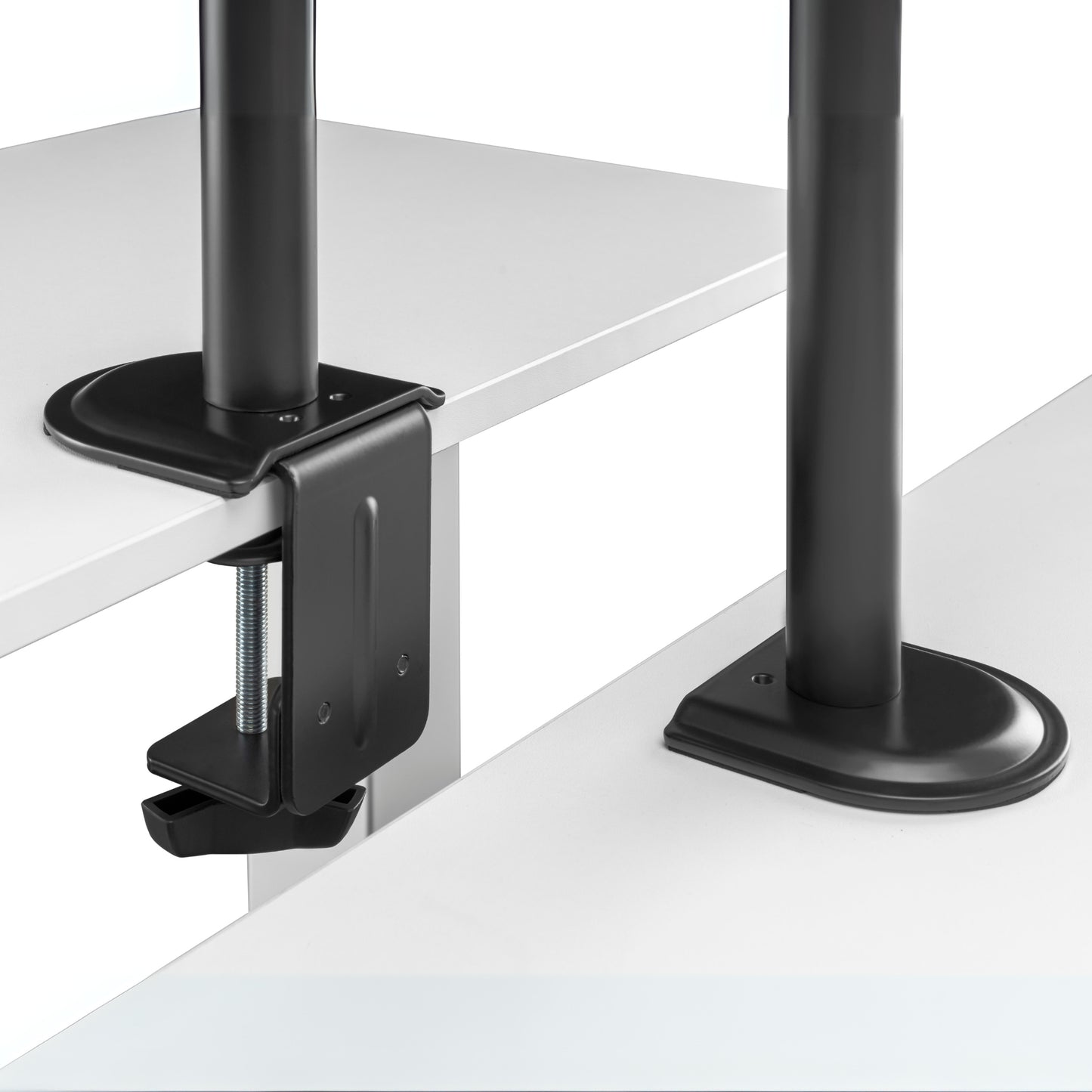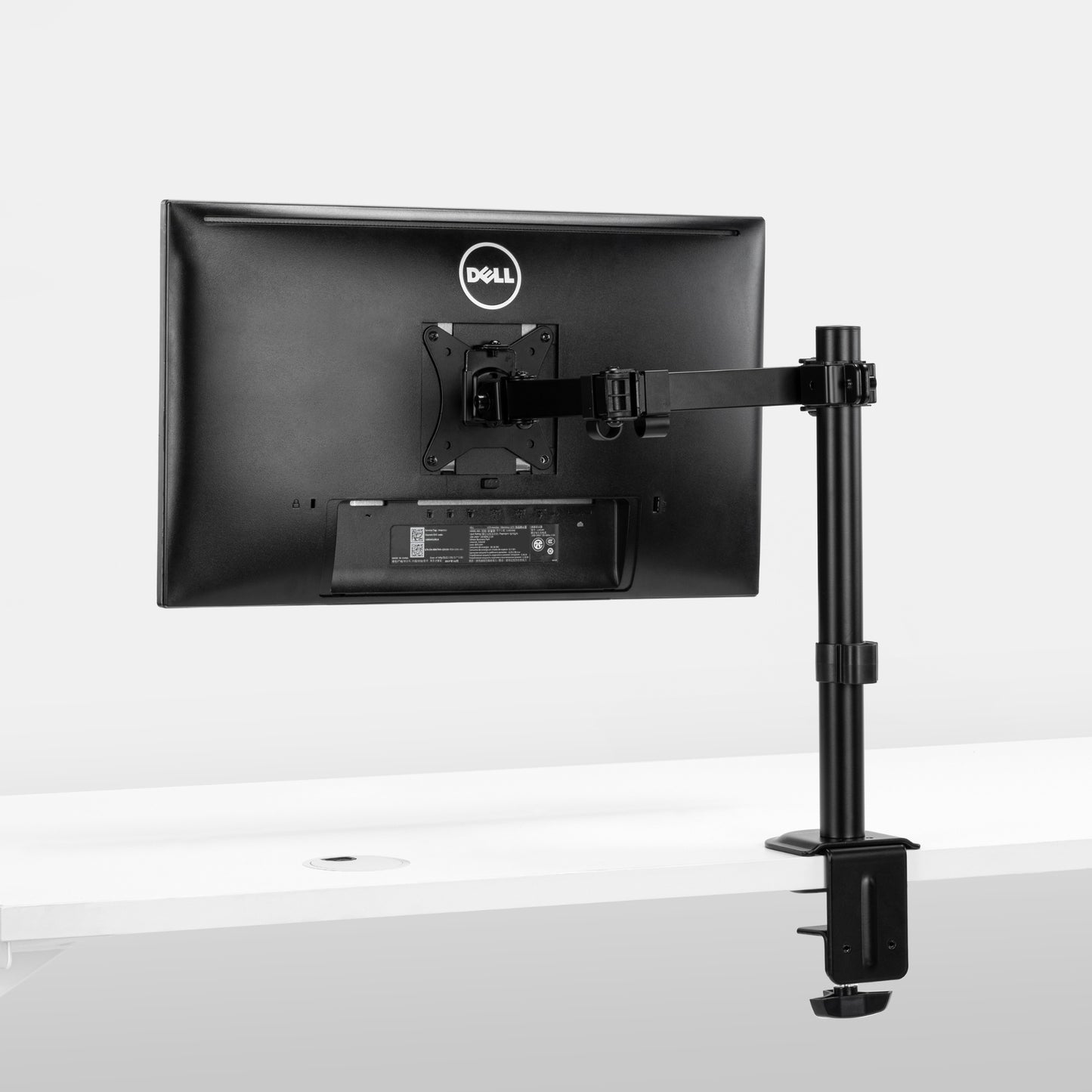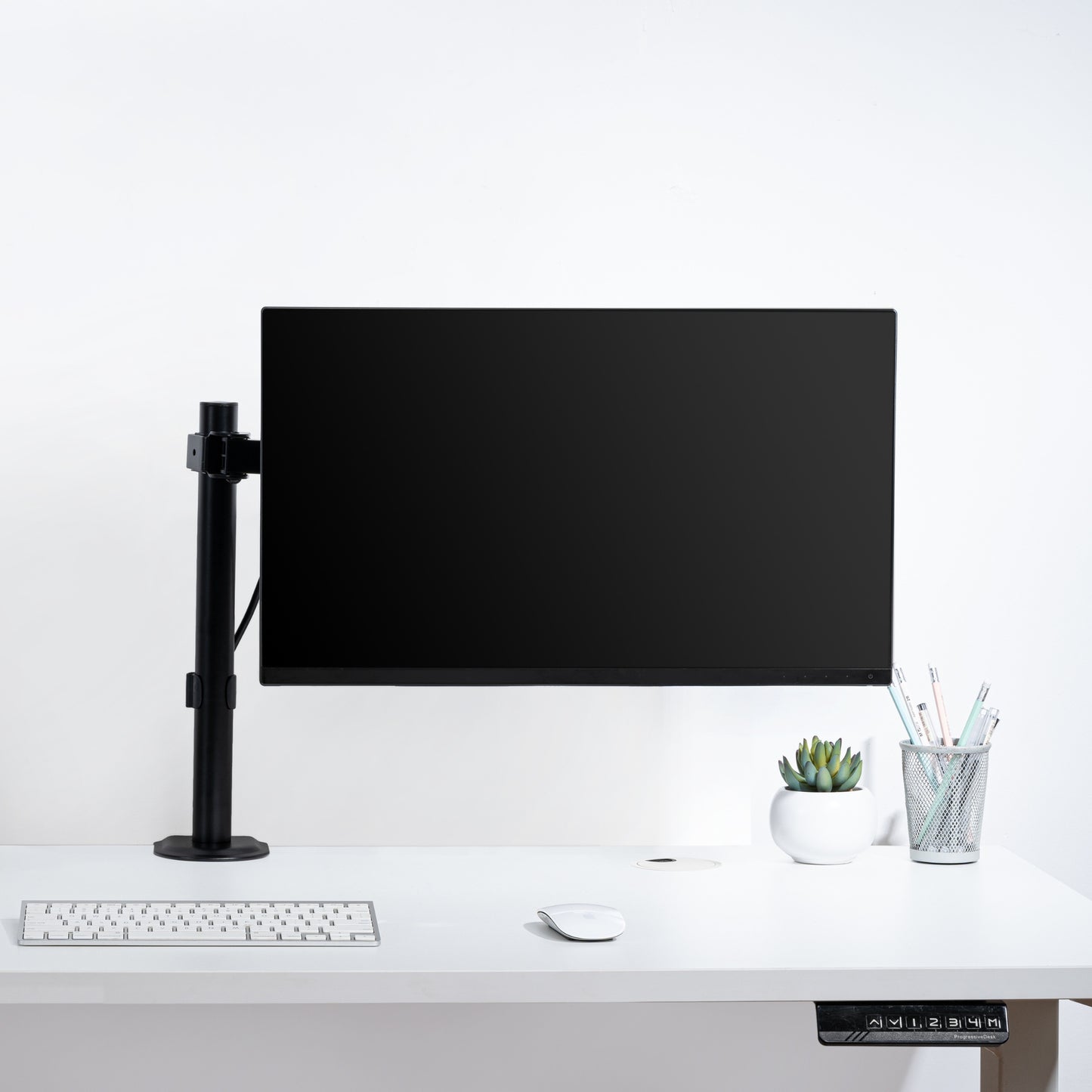 Tabletop Materials
Solid Wood Tabletops
Experience style and practicality with our Premium tabletops. Crafted from the finest solidwood, these tabletops showcase mesmerizing grain patterns and captivating colors. Choose from two size options for durability, easy maintenance, and eco-conscious design.
2 colors available. Compatibility: Solo Ryzer
Epoxy Tabletops
Epoxy tabletops combine the beauty of natural wood with a durable resin finish, showcasing unique patterns and colors. They are visually striking, easy to care for, and enhanced with a protective layer that resists scratches and moisture damage.
2 colors available. Compatibility: Solo Ryzer
Particle Board Tabletops
Our laminate-sealed particle board tabletops are immune to humidity and other environmental factors, ensuring durability. Our tabletops offer ample workspace and a comfortable, ergonomic design.
5 colors available. Compatibility: Corner Ryzer (59" × 59")
MDF, Laminate Tabletops
Discover the remarkable durability of our laminate tabletops, featuring a protective layer of laminate and a resilient MDF core. They are resistant to varying temperatures, high humidity, UV rays, and other environmental factors and require minimal upkeep.
9 colors available. Compatibility: All Standing Desks
Bamboo Tabletops
Our bamboo tabletops combine style, functionality, and eco-friendliness. With scratch and water resistance, they are perfect for any home or office. Made of carbonized bamboo, they are high-quality, durable, and come with a 15-year warranty.
2 colors available. Compatibility: Economy Ryzer, Solo Ryzer
| | |
| --- | --- |
| | |
| | |
| | |
| | |
| | |