Transform your design studio with the perfect blend of comfort, productivity, and aesthetics by investing in our Solo Ryzer, Corner Ryzer, and HAG Capisco Chair! 
A well-designed workspace drives creativity and productivity in design studios.
Designers spend significant hours working on their ideas, and a workplace that prioritizes ergonomics ensures physical comfort and health, reducing the risk of strain-related issues and enhancing focus. Solo Ryzer and Corner Ryzer from Progressive Desk and HAG Capisco Chair have been developed considering specifics of the human body to promote a healthy and active working style.
For a quote on your dream workspace setup, get in touch with us today. We offer enticing discounts for bulk orders, ensuring you can revolutionize your entire studio.  
Learn more about our innovative products and how they can unleash your team's creativity by reaching out to our friendly team. Don't miss the chance to transform your studio into an inspiring and collaborative hub!
7 Reasons to Partner with Progressive Desk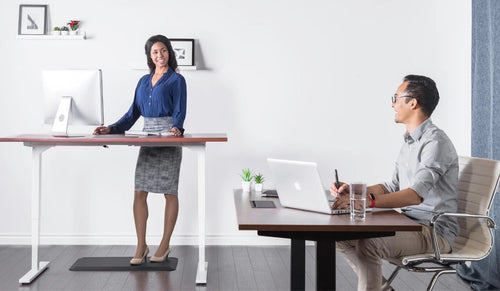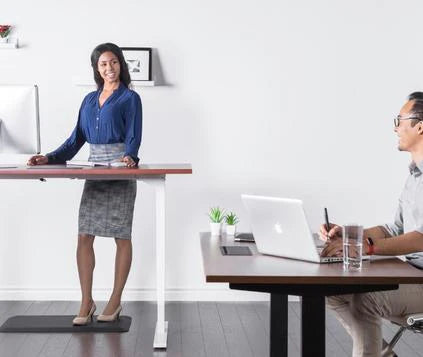 01
Adjustability
Our Solo Ryzer Desk enables smooth and effortless height adjustability, allowing designers to transition seamlessly between sitting and standing positions. This adaptability promotes better posture, reducing strain and fatigue during long creative sessions.
Combat Fatigue
02
Quality and Aesthetics
Crafted with premium materials, the Solo Ryzer represents elegance and durability. Its sleek design complements any studio environment, giving a touch of sophistication to the workspace. Also, opting for solid wood ash, walnut, or epoxy resin tabletops, with their unrepeatable patterns, you can add uniqueness and individuality to your workplace.
Elegant Refinement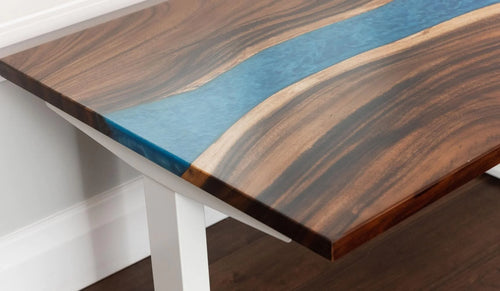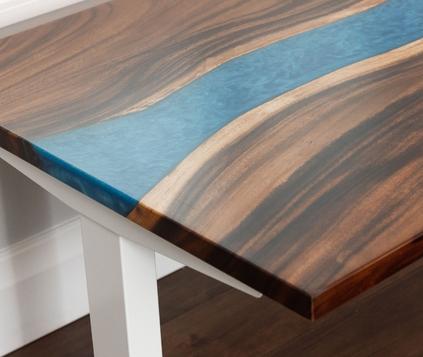 03
Collaborative Work Potential
With a spacious desktop, the Solo Ryzer provides ample room for collaborative brainstorming sessions. Designers can easily gather around the desk to discuss ideas, sketch together, and foster a creative atmosphere. 
Brainstorm Together
04
Space Optimization
Our Corner Ryzer Desk is designed to fit snugly into corners, making efficient use of studio space. Its L-shaped surface provides a generous workspace, allowing designers to spread out their materials and work collaboratively without sacrificing floor space. 
Maximize Your Studio Space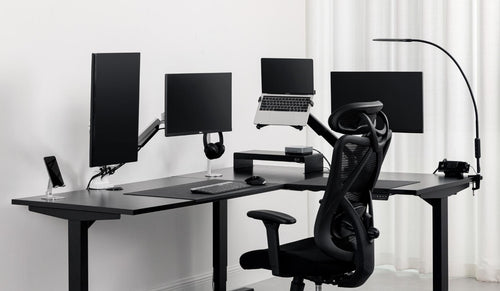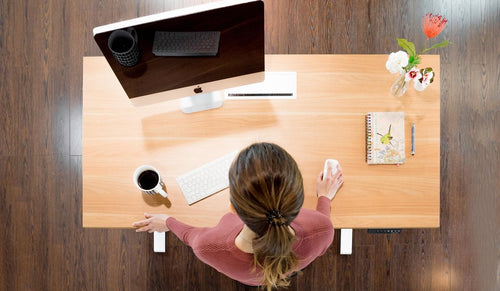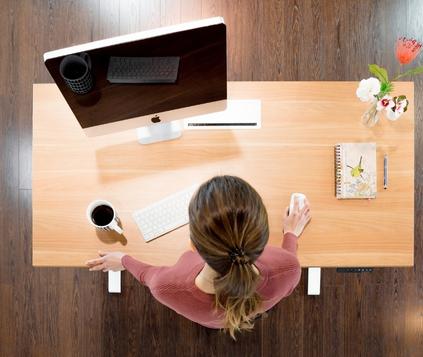 05
Ergonomics
Introducing the Corner Ryzer, a game-changing ergonomic desk that offers seamless height adjustment for ultimate comfort and flexibility. Say goodbye to slouching or straining your neck and back – with the Corner Ryzer, maintaining a healthy posture becomes effortless. Whether you prefer to stand or sit while working, this desk has got you covered.
Get Your Corner Ryzer
06
Quality and Durability
Crafted with the finest high-quality materials, Corner Ryzer Desk guarantees unwavering stability and durability for years to come. Its robust construction not only withstands the rigorous demands of a busy design studio but also exudes a timeless elegance that complements any workspace.
Elevate Your Productivity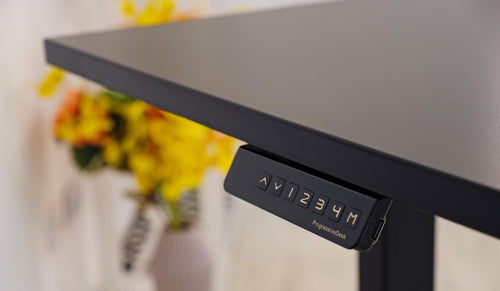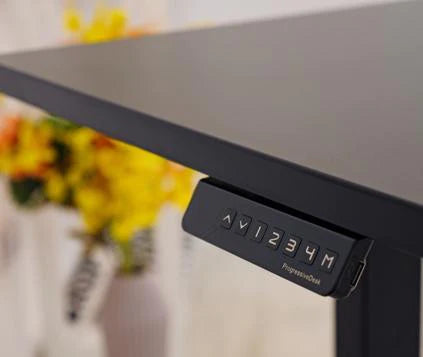 Unique Design:
The HAG Capisco Chair is renowned for its unique saddle-like seat, promoting an open hip angle and a natural, active sitting position. This design encourages movement and flexibility, keeping designers comfortable and engaged during long hours of work. Additionally, the chair's design allows for more customization with adjustable gas lift and footring to support various foot positions.
Collaborative Features:
With its dynamic design, the HAG Capisco Chair allows designers to sit in different poses, making it perfect for group discussions and collaborative work. Its versatility supports spontaneous exchanges of ideas, fostering creativity and teamwork. 
Aesthetics and Quality:
The HAG Capisco Chair is a statement piece with a contemporary and eye-catching design. Available in a range of colors and finishes, it adds a touch of modernity and elegance to any design studio while maintaining exceptional build quality.
embrace dynamic sitting
07
Benefits for Design Studios
With adjustable chairs and standing desks, designers can maintain optimal postures, boosting blood flow to the brain and improving concentration and cognitive function. The flexibility and adaptability of ergonomic setups encourage movement and prevent fatigue, leading to sustained creativity and productivity. By providing a favorable environment that inspires creativity and promotes collaboration, design studios can empower their team to thrive creatively and produce exceptional work.
Unleash your creativity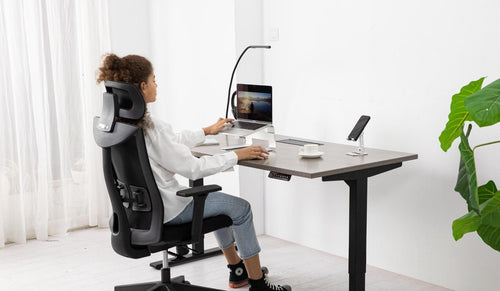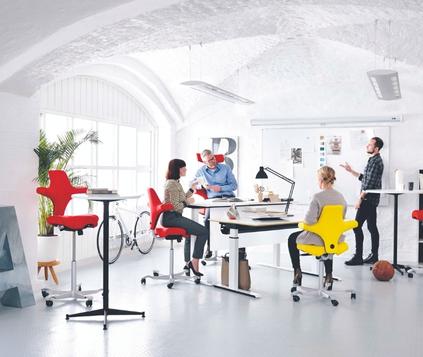 Buy More, Save More!
If you're looking to purchase multiple standing desks, you've come to the perfect place.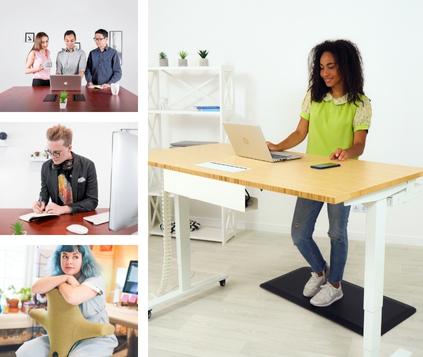 Make the most of our special offers
Buy 2 DESKS        - get a 10% discount,
Buy 3-5 DESKS    - enjoy a 15% discount,
Buy 6-10 DESKS   - save 20%.
If you're looking to purchase more than 11 desks, don't hesitate to reach out to us for an exclusive offer.
Unlock Exclusive Discounts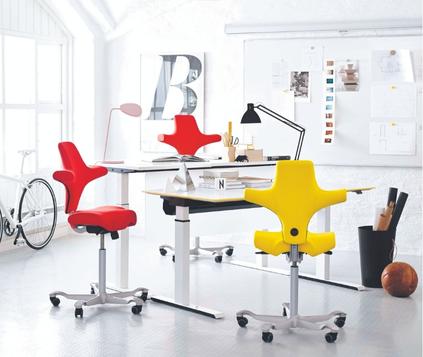 Exceptional Metamorphosis
Transform your design studio with Progressive Desk products!
Our Solo Ryzer and Corner Ryzer standing desks offer seamless adjustability, promoting comfort and ergonomic support during those prolonged creative sessions. With spacious workspaces, these desks encourage collaborative brainstorming, nurturing a creative atmosphere that fuels innovation.  
Complementing these desks, HAG Capisco Chair boasts a dynamic design that encourages movement and flexibility, promoting active sitting and enhancing teamwork during group discussions. Our products blend functionality with aesthetics, adding a bit of sophistication to your workspace. Elevate your studio experience with Progressive Desk today!
Need Expert Advice?