Home-Based Businesses: Create the Perfect Office Space
8.2 min read
Whether you're a startup or an established business, working from home is more difficult than it seems. From maintaining workflow, managing time to create a productive atmosphere, and organizing a home office, everything requires your careful consideration. Nailing a home office workspace is essential to continue your work pace and maximize productivity. So, how can you create and design a workstation that offers a professional feel and productive atmosphere regardless of the size of space you have?  
The desk is the centerpiece of any home office. Invest in a quality standing desk by browsing our range!
The simple way to get started is to think about your home office purpose. If you spend a significant amount of time in the office daily, creating a home office workspace is important.  You need to make it different from other rooms in your home so it will help you retain focus and give you a different atmosphere.  While creating a home office setup will allow you to work peacefully, you should decorate it differently, so it looks different from the rest of the rooms in your home. You must have a comfortable space to manage business-related tasks from home. Simply stated, your home-based workstation should strike a perfect balance between comfort and professionalism.
Whether you choose a small study, a built-for-purpose garage, or a dedicated room, the workspace should have the right furniture pieces. This article will help you find small home office ideas to transform your workspace and ensure you transform it correctly. Let's delve into the details to find out what it takes to create the perfect office space for your home-based business.
How to Create the Perfect Home-based Workspace
Pick a Location Suited for Your Working Style
The location of your home office is an important aspect. The nature of your work and your working style are two determining features that are worth considering as well.  For instance, if you need solitude while working or your work requires privacy, choose a spot with less traffic, such as a built-in garden-room or study.  
However, if you need to keep an eye on the children while managing your home-based business, spaces like a sitting room or an under-used dining room will be appropriate – a cupboard workstation can also be ideal. If you don't have a separate space to create a home office setup, spare a corner of your living space or bedroom, and make a workstation!
Invest in a Modern Home Office Desk
Investing in modern furniture for your home office will help you create a workspace tailored to your needs. However, choosing the right type of furniture, such as a home office desk, involves considering the space availability in the room. The top of your desk needs to be spacious enough to accommodate a computer or laptop, files, notes, and accessories. It doesn't end here; if your work requires you to stay in the same position all day long, your furniture can also be smart enough to prevent health issues.  How about investing in a standing desk? You can build your perfect standing desk from Progressive Desk, and create your ideal centerpiece for your home-based office.
Your home office desk should come with plenty of features to completely upgrade your workspace. Whether you opt for a standing desk or a standard desk, this piece of furniture will be the most important you buy so should offer superior flexibility, comfort, and support. Unlike traditional desks, a sit-stand desk is an excellent adjustable alternative for your home office workspace. The robust foundation, lift mechanism, precise movement, three-step frame design, and a wide variety of color options make this desk an ideal piece.
Alongside your desk, a comfortable and adjustable chair is also an investment you should make – the right chair will ensure you aren't distracted from your work through strain or discomfort!
Keep Your Space Organized
Organization is key to a successful business, and this is even more pertinent when your business is based at home. You need to designate and space for a filing cabinet and keep your office clutter-free. This also applies to your computer. All information should be filed into their proper folders and ensure you have backed up everything! Should disaster strike with your computer or laptop, you need to have a safety net. More practically, you must also think about the safest ways to run cables and wires to the closest power point. Ensure safe cable management with standing desk wire extenders if you have opted for a standing desk, magnetic cable organizers, and adjustable cable management covers.  These tech safety accessories will let you safely work without any obstruction.
Remove Clutter with Smart Storage
As mentioned, clutter is anything but productive. It is one of the common issues many entrepreneurs or people face when running a home-based business. Home office setups sometimes don't have proper storage due to lack of space. It is essential to make sure your workstation is tidy, with all paperwork accessible. Appropriate furniture such as filing cabinets, drawers, bookshelves are all solutions. You can also install and mount desk drawers to your home office desk that will keep your room looking slightly more clutter-free! Shelving for office accessories and files will also help you make more space and keep things within easy reach.
Get Natural Light In
Lighting plays an important role in your home office setup.  You must allow lots of natural light in your room that can easily blend in with artificial light. Position your desk close to a window to work in the daylight as much as possible. You can also buy a purpose-designed office desk lamp to create the right ambiance in your home office workspace.
Summing Up
All in all, creatingyour perfect home-based office workspace can contribute to your overall productivity. Although it doesn't guarantee success, you can feel more energetic and responsive to your work responsibility. There is plenty more to learn about creating the best home-office space, but this gives you the basics of where to start when crafting the perfect environment. We hope it was helpful!
Learn more about small home office ideas by browsing our desk range and checking out our desk accessories! Feel free to contact us with any questions you may have!
5 Reasons Why You Need the Perfect Home Office Space in 2021
June 03, 2021,
9.5 min read
Find Out More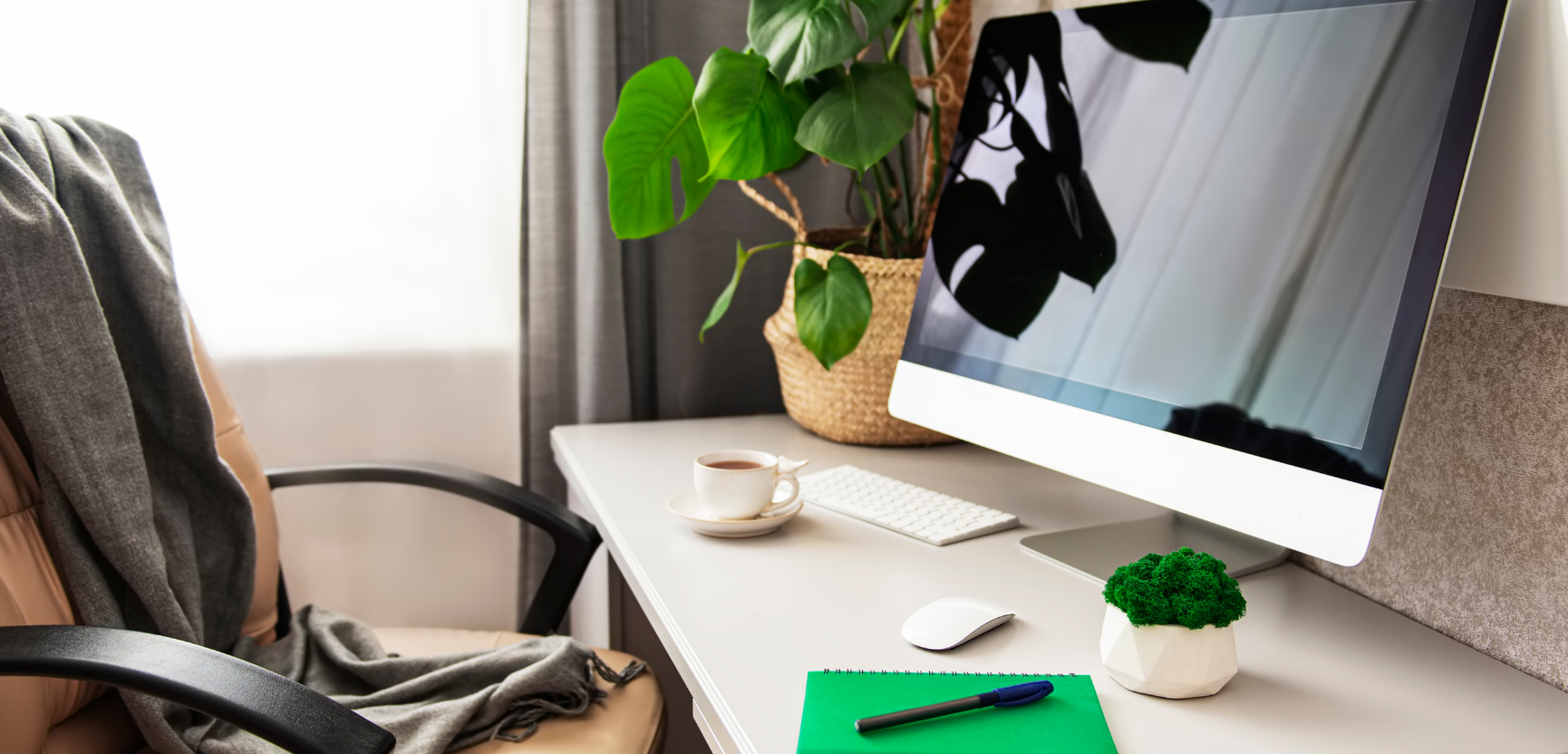 Benefits of a Minimalist Workspace
February 22, 2023,
6.4 min read
Find Out More